Can a book prepare the world?
We are a group of people motivated by one thing and that is to change the lives of little boys and girls who are diagnosed with autism.
We are developing a series of book that illustrates and explains autism to kids between the ages of 4 to 8 years old. Have these books distributed throughout North America within the next 3 years and Europe in the next 7 years.
So that kids learn at a young age about the different aspects of the spectrum, our kids have friends in school who are dealing with autism on a day to day basis.
Let's have a look at the alarming stats :
Autism Spectrum Disorder vs Bullying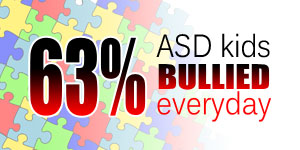 63% of the kids diagnosed with autism are being bullied in school. That would make it 4,018,140 people that are faced with bullying every day. They already have a lot to deal with on a day-to-day basis. A New Study from the Interactive Autism Network (IAN) finds Bullying causes significant short-term emotional and physical consequences for children with autism and are also often intentionally "triggered" into meltdowns or aggressive outbursts by ill-intentioned peers.
Why are we enabling this?
These books will prepare our society for a flux of kids, students, employees and adults who live with autism as they are growing in numbers. It will explain the intricacies of autism and better prepare us for things to come. It will allow us to see what needs to be changed and modified in our society to allow our children to be part of the work force.
The first book; "My friend Sam" is already published and it is available through Amazon.ca and Amazon.com. It is available in both official languages, French and English. We also have a partnership with Autism Canada who promotes the book on their first page at autismcanada.org, on their social media and in the monthly newsletters.
The development of the book series has been inspired by my son who deals with autism. Autism Canada has also given me, 21 subjects to tackle in the books. Each book will have its own Autism story. (Non-verbal kid to uncontrollable behaviors, difficulties with texture, communication, heightened senses, etc .. )
The distribution of the book will go as follows:
2 English and 2 French books in all of the elementary schools in Canada.
They will come in a package of pairs (i.e. book 1&2, 3&4, 5&6)
Each package will also include 2 T-shirts
Each package will also give some information on Autism Canada and how to get involved in donating.
Each package will include a video of the story told in the books that are in the package.
It is my belief that these books will better prepare our world for things to come. There is still a lot to learn about autism and yet there is still so much disinformation. These book will not only teach our kids about autism and all of its intricacies, but it will also teach our parents, adults who read these books with their child when they put them to bed.
We absolutely need to get the message out there. We absolutely have to aim for inclusion. We absolutely have to get in the know, our future depends on it.
 Here is our team: