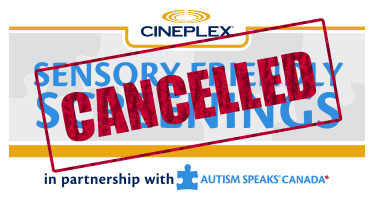 Told at the last minute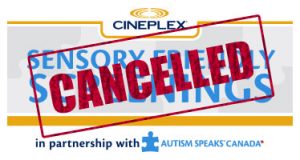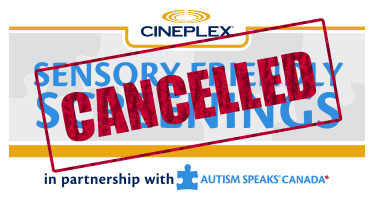 I just got back from the movie theater where our family was going to enjoy a sensory friendly viewing of the smurfs movie. We have been promising our son that we will be going to see the smurfs on Saturday May 6, 2017. For all of you parents who have a kid diagnosed on the spectrum, you know just how it is important for us to let our kids know of any events days, even weeks in advance.
So we showed up at the theater around 10 am this morning and tried to open the doors, they were locked. So we decided to wait. Then an employee came to the door and asked what we were doing here, we kindly told her that we are here for the sensory friendly viewing. She then proceeded in telling us that it was cancelled because they did not receive the smurfs movie at all.
Our son's face went from excitement to disappointment and anger. He was so looking forward to this viewing, he talked about it all week. As an advocate for autism awareness, I decided to write an email to cineplex odeon to express my disappointment.
Here it is:
To whom it may concern,
Thank you!,
Thank you for letting us know that the sensory friendly viewing was cancelled at the movie theater door. We told our son all week that we would be going to see the smurfs movie this Saturday, only to be told, by one of your employees, at the door, that the viewing was cancelled because they have not received the movie for the sensory friendly viewing.
As a parent who has a son diagnosed on the spectrum of autism, I do not think that you are aware just how important it is for us to know about cancellations days, even weeks in advance. This cancellation, changed the whole day for us as we have to deal with our sons disappointment AND his anger towards us because we promised him a viewing of the Smurfs movie on Saturday May 6th.
To add salt to the wound, your employee told us that the movie was being shown in Dieppe. This is just an idea but maybe sit all of your employees down and explain to them the reason of the sensory friendly viewing. I do not think they get exactly why we have to lower the volume OR leave the lights on.
I myself am an advocate for autism awareness, if you need someone to come and explain to them what autism is about, I will gladly do a presentation and show them  just how complex autism is.
I really love the fact that we have sensory friendly viewings available in our area but please take the time to consider the ramification of a last minute decision. I know a lot of parents in the Moncton area who are now dealing with a very difficult situation in their hands because of this cancellation.
I have checked on Facebook to see if there was any notifications but came with nothing. This is unacceptable, please take the required measures to remedy to this situation.
Thank you
Patrick Hardy
Father, author, illustrator and advocate of autism awareness.
I hope that this email will be considered and read by the powers that be at Cineplex and that they will take the measures to remedy the situation.
Another great example of the why my books are important.  It did, however, inspire me for the subject of the 5th book now.
Let's bring more awareness out there.
**UPDATE** Cineplex responds
On may 6 at 5:26pm EDT I got a reply email from cineplex:
Hello Patrick,
Thank you for contacting Cineplex Guest Services.
I am very sorry to hear about this experience. We have been notified by the theatre of this cancellation, and it turns out the theatre had been trying to receive a certain file of the film to show the sensory friendly screening but unfortunately did not receive it in time. As a result, they had no choice but to cancel the show. Management did advise us they updated their showtimes on the website on Thursday night to reflect this change. 
I will definitely forward your feedback regarding this experience to our Cineplex Trinity Drive location for their internal review and consideration to help ensure that something like this does not occur again in future. Additionally, I would be happy to offer you three (3) Courtesy passes so that you can come back for another movie at Cineplex on us. At your earliest convenience, please provide me with your full mailing address so that I can have these passes mailed out to you. Once again we sincerely apologize for the inconvenience and I look forward to hearing back from you.
Kind regards, 
Cassandra D.
Cineplex Entertainment | Guest Services
This was unsatisfactory for me as yet, they just offered me the routine office policy, brushing it off, in the hopes that it would shut me up.
Well:
Hello Cassandra,
thank you for your reply. Even though the gesture of giving us three tickets for free was a nice gesture, this is not what I am looking for.
A child diagnosed on the spectrum of autism is constantly bombarded by input, may it be visuals, sounds, smells and touch. For some, these inputs are so aggressive that they need anchors to rely on in their routine, so that there is some kind of order in the chaos.
The sensory friendly viewing event is one of those anchors for a lot of these kids. To have it cancelled, and told at the door, just creates more chaos for these kids which they did not need.
Trinity Cineplex Odeon say that they have not received the movie file in time. When was the movie file transferred to them? Could it be sent a week in advance?
Those three tickets you were offering us was a nice gesture but here is our reality. We do not go to the movie theater because the sound is way too loud and the lights are completely out, which does not go well with our son. This is why we attend the Sensory Friendly Viewing events because it is a lot let aggressive.
This has been the second time that someone has now offered us to go view a regular showing of a movie. Isn't there anyone out there in your company that is Autism Aware?
I believe that an autism awareness course would be beneficiary for all the employees and managers working in the theaters that offer the Sensory Friendly Viewing option. That way, a last minute cancellation would not happen.
Thank you for the attention you are putting into this.
Patrick Hardy
Father, author, illustrator and advocate for autism awareness