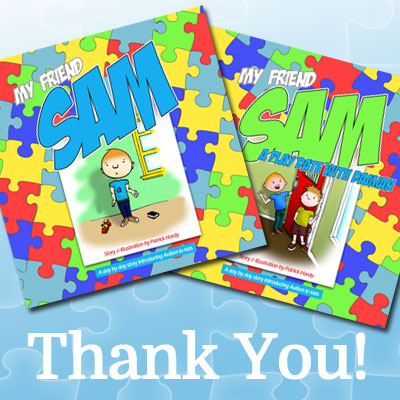 Thank you for your support!
First off, I would like to thank everyone who has bought a book. This book was a lot of work to produce and it was done with love, passion and hope. It has been quite a ride since the first book came out back in April of 2016. Since then a lot has happened.
Here is a list :
We sold 145 books so far (English and French combined)
The book was sold mostly in North America but in December we started to see some sales in Europe (6 books to be exact)
I have met with the MLA to discuss the project of releasing 30 books. I have yet to contact them again and provide them with more information.
I contacted all the autism societies of all canadian provinces and territories to promote the book.
The www.myfriendsam.ca site was launched in June 2016.
Got financial support from the UNI Financial Corporation
I have the help of a psychologist that specializes in the field of kids with special needs.
I have some help for the creation of the business plan for the book series, which will be completed next week.
I am in discussion with someone from PNB Education and Early Childhood Development in New-Brunswick who is interested in having the book featured in a package that would be given to new autism families (Receiving the Autism diagnosis)
The second book has been published on December 23rd. Get it here!
I participated in the Salon du Livre de Dieppe, which really helped in getting some representation and known.
I have met families who are interested in sharing their Autism stories. (book 2 for example)
I have done interviews about the book series on Radio-Canada Première Chaîne on the radio and on Radio-Canada Télé on the show titled: "Méchante Soirée".
I have been invited to talk about the book series at the CFCAA in Bathurst on April 6, 2017.
I have met and confirmed subjects for book #3 and #4.
This year, I am looking to release 3 new books at least. We are heading for a total of 30 books. I will do follow ups with PNB Education and Early Childhood Development to see what can be done with their collaboration. I will keep pushing to have these books distributed in schools and libraries.
If you would love to get involved with this project, please send me an email by clicking here.
Looking forward to what 2017 has in store for this book series.