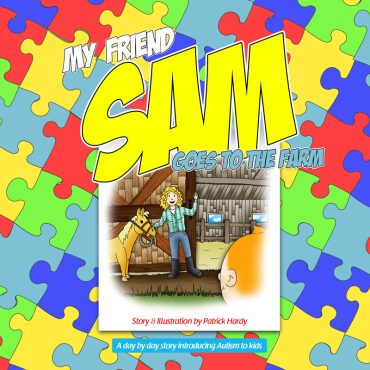 My Friend Sam goes to the Farm
In this book, Sam learns how to communicate and make himself understood by a horse. Just giving simple commands, Sam learns that he can express what he wants the horse to do and that this horse will obey.
Horse Therapy has been proven to help kids on the autism spectrum with self-confidence, motor skills and communication skills.
This book is available now through amazon.com and amazon.ca.
[button color=blue-button url="https://www.amazon.com/My-Friend-Sam-goes-Farm/dp/1976047536/ref=sr_1_1?s=books&ie=UTF8&qid=1523102936&sr=1-1&keywords=my+friend+sam+goes+to+the+farm" size="medium-button" target="_blank"]Purchase the book on amazon.com[/button]
[button color=green-button url="https://www.amazon.ca/My-Friend-Sam-goes-Farm/dp/1976047536/ref=sr_1_1?ie=UTF8&qid=1506899584&sr=8-1&keywords=my+friend+sam+goes+to+the+farm" size="medium-button" target="_blank"]Purchase the book on amazon.ca[/button]
Here is a brief preview of the book: